Arbe's Q1 Business and Financial Results
On May 12, Arbe held our Q1 Earnings Fireside Chat, Imagining Automotive in 2030. In addition to offering attendees a peek at the future of autonomy in 2030, through the riveting Fireside Chat discussion, the event featured important updates from Arbe's leadership.
CEO Kobi Marenko opened the event by providing a Q1 Business Update, followed by remarks from CFO Karine Pinto-Fomenboim, who shared an update on Arbe's Q1 Financial Results.
A full recording of the event can be found here, and the transcript of the Business Update and Financial Results follows below.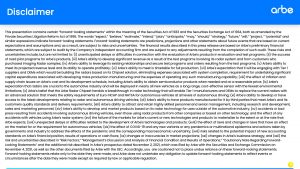 Kobi
First, I would like to go over some of our recent business highlights. We made great progress in the first quarter, particularly with our Tier-1s and OEM customers.
Hyundai Mobis, a leading car manufacturer and one of our early investors, held a PoC testing the safety enhancements introduced by our next-generation radar. Just yesterday, they showcased our joint pilot at the EcoMotion event. Working closely with world-leading car manufacturers like Hyundai is important for us, as it allows us to evaluate how our technology addresses their safety and autonomy needs in real-time. Here are some highlights from the pilot:
During the first quarter, Arbe engaged with 5 new customers including OEMs who are leaders in Level 2+ passenger vehicle design and new mobility players focusing on Level 4 applications.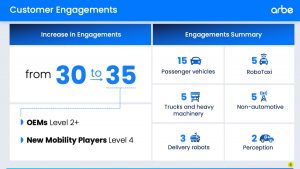 Part of our business progress during the first quarter is attributed to our tier-1s, who develop radar systems based on our chipset. The success and commitment of our partners is critical to our ability to scale in terms of production, unit sales and market reach. In the first quarter, our tier-1s submitted 5 RFPs and RFQs with Arbe's chipset to major OEMs, committing to supply the customer with volumes of 400 thousand systems to 1 Million systems per year.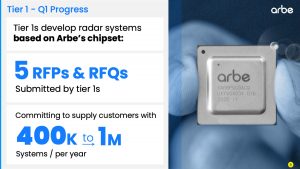 In the first quarter, Arbe secured a wealth of knowledge and experience with the addition of several new members to our leadership team.
Joining our Board of Directors is Thilo Koslowski, a renowned thought leader and visionary in automotive and digital technology, who previously served as the founder and CEO of Porsche Digital. Thilo also founded the automotive and smart mobility practice at Gartner, where he advised global automakers, technology companies, and governments on harnessing new technological innovations.
Alex Hitzinger, who also joined our board of directors, is the former Volkswagen Group Senior Vice President of Autonomous Driving and a member of the management board of Volkswagen Commercial Vehicles. Additionally, Alex held the position of Head of Product Design for Autonomous Transportation at Apple, where he led the automotive team.
Finally, Gonen Barkan, who joined Arbe's management as our new Chief Radar Officer, will head Arbe's technological strategy. Gonen comes to us from General Motors, where he led a global team and was responsible for all aspects of radar technology development, radar product development and radar integration into GM vehicles.
We are proud that Gonen, Alex and Thilo chose to join Arbe, demonstrating their confidence in our vision. Their knowledge and expertise will strengthen our strategy, tighten our relationships in the auto industry, and expedite our progress.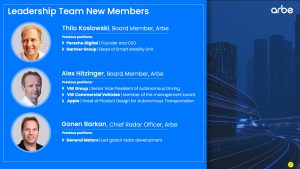 On the product front, back in January at CES, we introduced the addition of Free Space Mapping to our Imaging Radar perception stack. This is the first time an automotive radar is able to perform free space mapping, a critical function of autonomous driving that requires great accuracy and redundancy.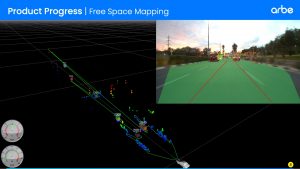 Last week, we were happy to announce the launch of our latest RF chipset, in the final production configuration. The new chipset increases range, allowing radars to detect vehicles at 800 meters, or about half a mile. This functionality will make our radar extremely valuable across customer verticals, including trucks, a key vertical for Arbe, as the truck industry will be one of the first to introduce autonomous driving on mass scale.
Our new chipset offers the industry-first combination of system design flexibility with ultra-high resolution, providing optimal performance across challenging driving scenarios, such as spotting a flat tire on the highway, enabling delivery robots to drive safely on the sidewalk, and developing forward and backward free space mapping, particularly for unprotected left turns, T junctions, merging onto the highway, and more.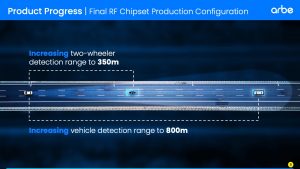 Now I'd like to highlight some of the exciting news that we shared, demonstrating the market recognition of Arbe's innovative technology. We are honored to be recognized for our product innovation, recently winning some of the most prestigious awards in our industry. Back in January, Arbe's Perception Imaging Radar was recognized for revolutionizing autonomous vehicle sensing to support advanced perception capabilities at an affordable cost for the mass market by CES 2022.
Additionally, we were proud to have won first place at the 2022 Tech.AD conference in the category of sensor perception, which highlights the superiority of our advanced perception radar designed to create ultimate safety in the autonomous vehicle industry.
This meaningful validation, combined with three industry executives choosing to join our management team and our board are all important signals that we are on the right path.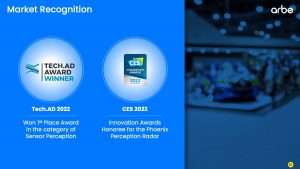 We are extremely pleased to be progressing according to plan. We are confident in our leadership role in the evolution of the industry and we look forward to continuing to achieve major milestones.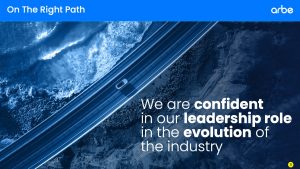 Karine
Here are the financial results for Q1 2022:
Total revenue in the first quarter was $0.9 million compared to $0.6 million in the first quarter of 2021. Backlog as of March 31, 2022 was $2.8 million, consisting mainly of chipset, services and samples orders from several leading car manufacturers and Tier 1s.
Gross margin for Q1 2022 was 56.1% compared to 44.3% in the same period in 2021. The gross margin increase was primarily related to a lower cost per unit as we expand toward production.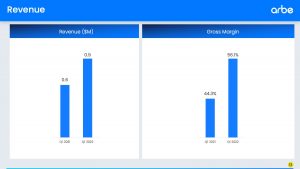 Moving on to expenses. In Q1 2022, we reported total operating expenses of $11.1 million, an increase from $4.5 million in the first quarter of 2021. The increase in operating expenses was primarily driven by labor cost uptick, non-cash share based compensation expenses and additional general overhead cost related to our status as a public company. Research and development expenses increased from $3.7 million in Q1 2021 to $7.8 million in Q1 2022, reflecting growing investment in labor and moving toward production.
Net loss in the first quarter of 2022 decreased significantly and was ($7.9) million, which included $2.8 million of financial income, compared to a net loss of ($18.4) million in the first quarter of 2021, which included $14.1 million of financial expenses. Both years' financial expenses/income related to the revaluations of convertible loan and warrants.
Looking at adjusted EBITDA in Q1 of 2022, a non-GAAP measurement, which excludes expenses for non-cash share-based compensation and for non-recurring items, was a loss of ($8.6) million compared to a loss of ($4.1) million in the first quarter of 2021.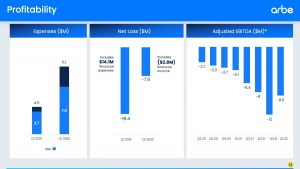 Moving to our balance sheet. As of March 31, 2022, Arbe had $87.3 million in cash and cash equivalents. Total debt on March 31, 2022, was $5.1 million which we expect to pay by July 1, 2022.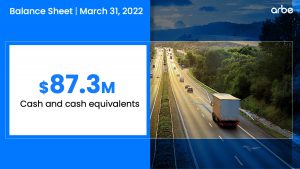 With respect to our guidance for 2022, we would like to reiterate what we previously shared; revenue is expected to be in the range of $7 million to $11 million, heavily weighted towards the end of the year. Adjusted EBITDA is expected to be a loss in the range of $34 million to $38 million.
We believe that we are on track to reach our $312 million revenue goals for 2025.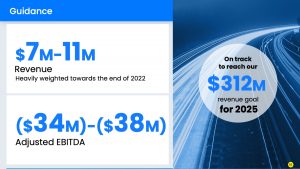 Connect to learn more